The first version of Kamailio World 2016 schedule has been published:
Again, we are filling two days and a half of sessions related to real time communications, covering Kamailio, Asterisk or FreeSwitch and common use cases such as telephony services, WebRTC, IMS/VoLTE or OTT platforms. The first day afternoon is hosting the workshops, the sessions where to expect more hands on examples.
We are also try to finalize a way to offer a trip to Fraunhofer Fokus Institute for seeing some of their interesting demos on the FUSECO and 5G playgrounds in the NGNI (Next Generation Network Infrastructure) department coordinated by Prof. Dr. Thomas Magedanz.
With the celebration of 15 years of development of Kamailio, we tried to bring together some of the past developers to share more about internals of Kamailio, but also discuss about the future of the project – two open discussion panels being scheduled on these topics.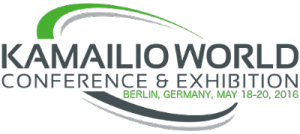 It looks like is going to be the greatest of the editions so far, with many of the community members around as well as other friendly open source projects. Definitely an edition one must not miss! Don't delay your registration, the capacity of the room is limited and we expect to be fully booked! Register now!
Looking forward to meeting many of you in Berlin!
And thank you for flying Kamailio!