It is probably no much of a surprise that the next Kamailio World Conference and the NG-Emergency track cannot be organized anymore during April  27-29, 2020. We are trying to find out the best alternatives for later in the year, when we hope the situation will be back to normal and people will be again in mood for social interaction.
Being one of proposed alternatives, because we discussed a lot during the last several days with the people involved in organizing the event as well as the active community, we want to make it clear right now that we do not plan to switch to an online version (i.e., video conferencing) at the same dates. With the current situation out there, it is very likely that the level of stress everywhere will be high during the next 6 weeks till the initial planned dates, so putting together the infrastructure for video conferencing, synchronizing with the speakers and participants will just add to it, therefore it is better that everyone is focusing on taking care of the beloved ones and how to deal the best with the daily constraints during this interval.
All the payments received for participating at or supporting Kamailio World 2020 will be refunded. If you are among them, thank you once more! We will contact you very soon with the relevant details.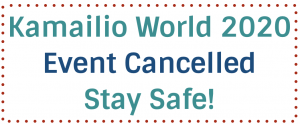 Keep also an eye on the event website for updates related to what is going to be next related to the conference!
We hope the evolution will turn into a positive perspective very soon and the crisis is going to end rapidly, so everyone can return to the usual activities! Moreover, we wish you and the beloved ones a smooth time during this exceptional situation and to stay healthy!
Kamailio World Team