Welcome to the 4th edition of Kamailio World Conference & Exhibition. The event will take place in Berlin, Germany, during May 18-20, 2016.
With this edition we celebrate 15 years of development for Kamailio project, from SER 2001 to Kamailio 2016. Expect an exceptional event, with many special participants and guests that influenced the evolution of SIP, VoIP and Kamailio.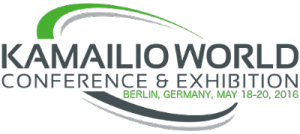 You can see what happened at the previous editions by visiting their websites:
Relevant open source projects in the RTC ecosystems participated at previous editions and are expected at next editions, such as: Kamailio, Asterisk, FreeSwitch, Matrix, SEMS, Kazoo, Jitsi, Zoiper, JsSIP, Homer SIPCapture.
Among speakers

Alan Duric (serial entrepreneur, co-founder of Telio, co-founder of Wire),  Alex Balashov (founder of Evariste Systems), Alex Dubovikov (founder of Homer SIPCapture), Andreas Granig (co-founder and CTO of Sipwise), Carlos Ruiz Diaz (founder of TokyApp), Carsten Bock (founder of NG Voice), Daniel-Constantin Mierla (co-founder of Kamailio, Asipto), David Duffett (Community Manager of Asterisk), Dean Bubley (founder of Disruptive Analysis), Dragos Vingarzan (founder of OpenIMSCore, CoreNetDynamics), Elena-Ramona Modroiu (co-founder of Kamailio, Asipto), Emil Ivov (founder of Jitsi), Federico Cabiddu (Orange France, Libon), Henning Westerholt (1&1 Germany), James Body (Truphone), Jose Luis Millan (co-founder JsSIP), Karl Anderson (co-founder and CTO of 2600hz, Kazoo), Matt Jordan (lead developer of Asterisk), Matthew Hogdson (Matrix), Peter Dunkley (WebRTC), Randy Resnick (producer of VoIP Users Conference), Robert Day (lead developer SIPp), Olle E. Johansson (VoIP, IPv6 and Security), Nir Simionovich (founder of GreenfieldTech), Sebastian Damm (sipgate), Sherman Scholten (VP of Obihai Technology), Simon Tennant (founder of Buddycloud), Simon Woodhead (founder of Simwood eSMS Ltd), Stefan Sayer (lead developer of SEMS), Thomas Magedanz (prof. Technical University of Berlin, FhG Fokus), Tim Panton (founder of Westhawk Ltd), Torrey Searle (head of R&D at Voxbone), Uri Shacked (senior architect of Bezeq), Victor Pascual Avila (co-chair of the STRAW group at IETF).
Some of the topics approached in the past: security and scalability of SIP platforms, WebRTC, IMS and VoLTE, SIP for OTT and mobile networks, load balancing, asynchronous processing, integration with media servers, dangerous demos, SIP provider services, SIP interconnect services, DID routing, SIP client applications, VoIP embedded systems, IoT and smart cities, evolved packet core, charging and prepaid systems.
Keep an eye on this web site, more details will be published soon!
Have great winter holidays and looking forward to meeting you in Berlin next year!