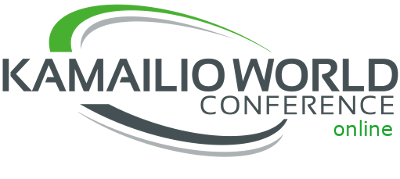 September 7-8, 2022
21 Years Kamailio Development Celebration!
20 Years Of Open Source Kamailio!
10 Editions Of Kamailio World!
Learn
Presentations about what is new in Kamailio project and its common use cases.
Connect
Meet the developers and community members.
Discuss
Engage with the other participants to chat about Kamailio and RTC space.
Celebrate
20 years of continuous development! Time for a party!
Schedule
Not yet final.
All times are in UTC.
Wed, Sep 7, 2022
Thu, Sep 7, 2022

12:50-13:00 ⚛ Welcome

12:50-13:00 ⚛ Welcome

13:00-16:00 ⚛ Presentations - TBA

Among speakers:

Daniel-Constantin Mierla: Kamailio - Last Year In Review
Yufei Tao: TBA
Fred Posner: TBA
Richard Shih-Ping Chan: Kamailio - SIP Over TLS Using WolfSSL

13:00-16:00 ⚛ Presentations - TBA

Among speakers:

Henning Westerholt: TBA
Carsten Bock: Dialog Module Updates And IMS Use Cases
Ihor Olkhovskyi: End To End Testing Of Kamailio And RTPEngine Using VOLTS
Daniel-Constantin Mierla: Full Control Of SIP Message Content With KEMI

16:00-17:00 ⚛ Open Discussion: Ask Me Anything

→ Kamailio Developers & You
Discuss about present and future of Kamailio project.
Any feature missing? Any suggestion to improve the collaboration between users or developers? Are there components that should be simplified?
You do not know how to use it in different scenarios or if it suits your needs? Some of us may have hints for you!

16:00-17:00+ ⚛ Celebration Party

→ Everyone
This day Kamailio project celebrates 21 years of development, its first code commit was pushed on September 3, 2001.
Do a birthday speech or just engage in a free discussion with people around the world, while enjoying a drink or a cookie from the comfort of your office or living room sofa.
Content
Presentations
by experienced kamailians
what is new in Kamailio

typical use cases

tips and tricks

integration with other services
Open Discussions
with all kamailians
know the community members

ask me anything with developers

what is new in the RPC space

plans for the future
enjoy a drink

... and a cake

... from your office or living room

... with everyone around the world